Abbiamo ritenuto opportuno sovvenzionare una pubblicazione scientifica di alcuni nostri medici del Day Hospital Oncoematologico del Policlinico Tor Vergata.
La Pubblicazione scientifica rappresenta la principale forma di comunicazione ufficiale della comunità scientifica, tramite la quale i singoli ricercatori o i gruppi di ricerca rendono pubblici i metodi ed i risultati dei propri lavori. Il primo aspetto che caratterizza una pubblicazione scientifica è l'oggettività. I risultati e la spiegazione delle procedure sono sempre riportati in modo trasparente, rendendo verificabile qualsiasi affermazione e riproducibile ogni metodo descritto.  Titolo: L'efficacia e la sicurezza dell'associazione di Lenalidomide e Rituximab in una recidiva orbitale di Linfoma diffuso a grandi cellule B. Verrà riportata la pubblicazione originale, in basso troverete anche la traduzione in italiano.
Case Reports in Hematology
Volume 2019, Article ID 2845130, 4 pages
https://doi.org/10.1155/2019/2845130
Case Report
The Efficacy and Safety of Lenalidomide plus Rituximab in an Orbital Relapse of Diffuse Large B-Cell Lymphoma
Fondazione Policlinico Tor Vergata, Dipartimento di Biomedicina e Prevenzione, Rome, Italy
Correspondence should be addressed to R. Palmieri; raffaele.f.palmieri@gmail.com
Received 6 June 2019; Revised 7 August 2019; Accepted 27 August 2019; Published 12 September 2019
Academic Editor: Vincent Ribrag
Copyright © 2019 R. Palmieri et al. This is an open access article distributed under the Creative Commons Attribution License, which permits unrestricted use, distribution, and reproduction in any medium, provided the original work is properly cited.
Abstract
A 74-year-old male with diffuse large B-cell lymphoma, with an Ann Arbor stage IV-A, was submitted to immune-chemotherapy in 2014, with complete remission of the disease. Two years later, he presented with a left eye swelling leading to exophthalmos and blurred vision. A core biopsy was performed and revealed a local relapse of the disease. He was considered unfit for intensive salvage chemotherapy and was treated with a combination of rituximab and lenalidomide. After six courses of rituximab plus lenalidomide, the patient showed complete remission and was submitted to maintenance therapy with lenalidomide. After 24 months since the start of lenalidomide monotherapy, we did not observe any progression. In this experience, rituximab plus lenalidomide, without radiotherapy, was a safe and effective therapeutic combination in an elderly patient with a localized relapse of DLBCL who was unfit to receive more aggressive therapies.
1. Background
Diffuse large B-cell lymphoma (DLBCL), with an annual incidence of 7-8 cases per 100,000 people per year, is the most common subtype of aggressive non-Hodgkin's lymphoma [1], and notwithstanding recent chemotherapeutic advances, disease relapse occurs in up to half of all patients [2].
The extranodal presentation to the head at the onset of the disease is very uncommon [3]. However, orbital lymphomas represent about 5–15% of extranodal lymphomas and approximately 50% of all primary malignant tumors of the orbit. The incidence of an isolated recurrence at the orbit remains unknown [4]. It usually occurs in elderly patients. It is characterized by a poor prognosis, and until now, it lacks standard therapy [5].
Multiple therapies targeting the biological pathways of B-cell lymphomas are under clinical evaluation. Among them, lenalidomide, an immunomodulatory agent with both tumoricidal and immunomodulatory effects, appears particularly promising. Its tumoricidal effects include inhibition of vascular endothelial growth factor-mediated microvessels formation, leading to cancer cells' cycle arrest and apoptosis [6]. Immunomodulatory effects of lenalidomide include inhibition of proinflammatory cytokines such as tumor necrosis factor α, increased the cytotoxicity of natural killer (NK) cells, inhibition of regulatory T cells, and increased anti-inflammatory cytokines [7–9]. The association of lenalidomide with the anti-CD20 monoclonal antibody rituximab has been studied in several trials, showing encouraging results [10, 11].
2. Case Presentation
A 74-year-old male presented to our department with a red, ulcerated plaque on the left arm with three months of duration. Recently, the lesion was rapidly increasing in size and started bleeding. Excisional biopsy was performed, and the material was sent for histopathological examination. Microscopic examination revealed diffuse infiltrates of large noncleaved cells, with large nuclei and conspicuous nucleoli. Immunohistochemical evaluation revealed the abnormal cells to be CD20+ Bcl6+ MUM1+ CD10–c-Myc– and CD3–. The proliferative index (Ki 67) was 90%. A diagnosis of nongerminal center diffuse large B-cell non-Hodgkin's lymphoma (non-GCB DLBCL) was established. The bone marrow did not reveal any involvement of lymphoma. A fluorodeoxyglucose positron emission tomography (FDG-PET) was performed and it showed a diffuse involvement of mediastinal nodes.
The patient was subsequently started on systemic chemotherapy with rituximab combined with liposomal doxorubicin, cyclophosphamide, vincristine, and prednisone (R-COMP) for six cycles, followed by involved field radiotherapy on the arm. He well tolerated the therapy and obtained a complete remission.
Two years after the completion of therapy, the patient came to our observation with a left eye swelling leading to exophthalmos and blurred vision (Figure 1). A core biopsy was performed, and it revealed a disease with the same immunohistochemical panel of the diagnosis. Magnetic resonance imaging (MRI) showed a high-density process involving the left orbit and the surrounding soft tissues. An FDG-PET/Tc excluded any systemic involvement.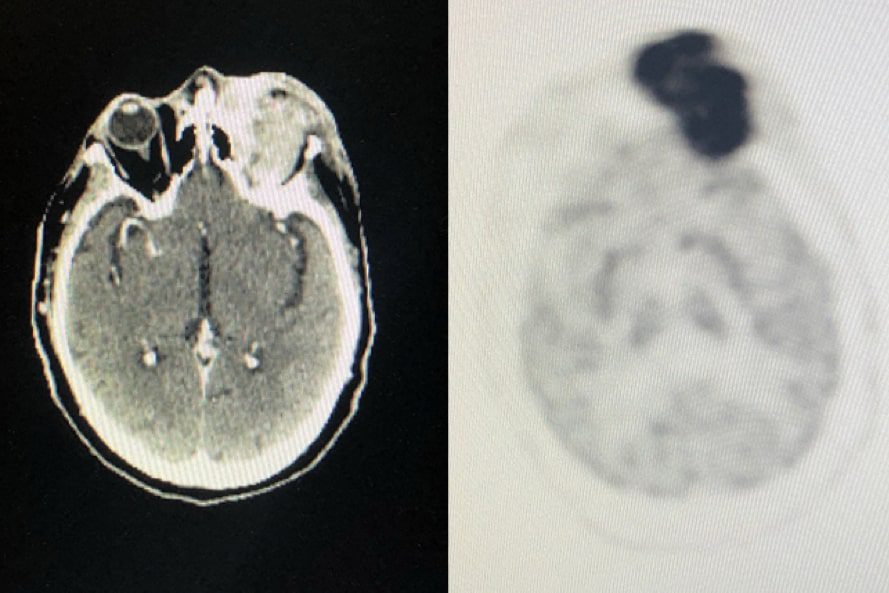 Bone marrow biopsy was not performed due to patient refusal.
At the time of the relapse, the patient was 76 years old and considered ineligible for high-dose second-line chemotherapy. Moreover, radiotherapy was not considered for the large extension of the disease because of the long-term side effects of rays on the patient's sight. In the absence of standardized therapy for these patients, we chose the combination of rituximab (375 mg/mq D1) plus lenalidomide (15 mg D1–21) every 28 days for 6 courses. At the end of the therapy, complete remission was confirmed by MRI and FDG-PET/CT scan evaluation (Figure 2).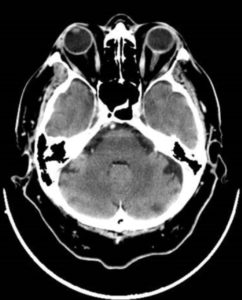 After remission, lenalidomide (15 mg D1–21, every 28 days) monotherapy maintenance was started and planned to be continued until progression or unacceptable toxicity. After 24 months since the start of lenalidomide monotherapy, the patient is still in complete remission with an excellent quality of life.
3. Discussion and Conclusions
Diffuse large B-cell lymphoma is the most common subtype of non-Hodgkin's lymphoma, accounting for approximately 30% of new cases. Despite the high rate of response to first-line standard chemotherapy R-CHOP, 30–40% of patients are refractory or relapse. High-dose chemotherapy followed by autologous stem cell transplant is considered a good option in relapsed/refractory young fit patients, with rates of overall survival at 4 years up to 60% [12]. Nevertheless, for patients not eligible for intensive salvage therapy, including most >70 years of age, front-line represents almost always the only chance for a cure, especially in non-GCB subtypes [13].
In our case, a 77-year-old patient presented with a relapsed non-GCB DLCBL involving the orbit. Long and even short-term prognosis of this localization in elderly patients is considered unfavorable, and we do not have a recommended therapy yet. Our patient was not eligible for standard high-dose chemotherapy, and radiotherapy was considered palliative. We decided to use the association of lenalidomide and rituximab as a manageable and well-tolerated therapy [14]. The efficacy of lenalidomide monotherapy has been investigated in heavily-pretreated DLBCL, resulting in higher overall response rate and longer progression-free survival as compared to standard intensive chemotherapy [15].
Furthermore, as recently observed in large multicenter randomized trials, a positive trend favoring lenalidomide plus R-CHOP versus R-CHOP alone was observed in previously untreated high-risk DLBCL [16]. Moreover, this drug association has also been tested in refractory/relapsed aggressive NHL involving the central nervous system and the ocular district, recording promising results [17]. Of note, the incidence of grade 3-4 toxicities was found remarkably higher among patients treated with standard chemotherapy as compared to those treated with lenalidomide plus rituximab [18], encouraging the use of this drug association for patients considered unsuitable for intensive treatment.
Finally, lenalidomide as maintenance therapy, meaningfully improved the outcome of patients with DLBCL if compared to placebo. Intriguing, the progression-free survival benefit of lenalidomide maintenance was equally important in patients who achieved complete remission as in those achieving a partial remission [19].
Therefore, our case report shows that the association of lenalidomide plus rituximab could be an option in the treatment of isolated orbital relapse of systemic non-GCB DLBCL. This strategy, improved by the following lenalidomide maintenance treatment, might be an attractive and well-tolerated therapeutic option in relapsed/refractory elderly patients who are unfit for intensive salvage chemotherapy.
Consent
Written informed consent was obtained from each patient for publication of this case report and accompanying images.
Conflicts of Interest
The authors declare that they have no conflicts of interest.
Acknowledgments
The authors thank Maria Stella Marchetti and L'Arcobaleno della Speranza Onlus.
           /———————————————————————————/
L'efficacia e la sicurezza dell'associazione di Lenalidomide e Rituximab in una recidiva orbitale di Linfoma diffuso a grandi cellule B.
Palmieri R1 , Esposito F1, Meconi F1 , Rapisarda VM1, Anemona L1, Paterno G1, Vaccarini S1, Nasso D1, Pupo L1and Cantonetti M1.
Fondazione Policlinico Tor Vergata, Dipartimento di Biomedicina e Prevenzione
 Abstract
Un paziente di sesso maschile di 74 anni affetto da linfoma diffuso a grandi cellule B (stadio IV A secondo Ann Arbor), veniva sottoposto presso il nostro Centro a chemio-immunoterapia che nel 2014, ottenendo la remissione completa di malattia. Due anni dalla fine del trattamento giungeva alla nostra osservazione per la comparsa di gonfiore a carico dell'occhio sinistro associato ad esoftalmo e visione offuscata. Veniva pertanto eseguita una biopsia della lesione che rilevava una ricaduta locale della malattia. Il paziente veniva considerato non eleggibile a chemioterapia di salvataggio ad alte dosi e veniva pertanto avviato a terapia di seconda linea con Rituximab e Lenalidomide.
Dopo sei cicli di Rituximab più Lenalidomide, dato che la rivalutazione di malattia mostrava un quadro di remissione completa , il paziente veniva avviato a terapia di mantenimento con Lenalidomide. Dopo 24 mesi dall'inizio della terapia di mantenimento con Lenalidomide, il paziente è ancora in remissione completa.
In questa esperienza, l'associazione di Rituximab e Lenalidomide, senza dover ricorrere al trattamento con radioterapia, si è rivelata essere una combinazione terapeutica sicura ed efficace in un paziente anziano ritenuto non eleggibile a terapie più aggressive, con una ricaduta localizzata di Linfoma diffuso a grandi cellule B.
Introduzione
Il linfoma diffuso a grandi cellule B (DLBCL), con un'incidenza annuale di 7-8 casi per 100.000 persone all'anno, è il sottotipo più comune di linfoma aggressivo non-Hodgkin [1] e, nonostante i recenti progressi chemioterapici, la recidiva di malattia si verifica in circa la metà dei pazienti [2].
La presentazione extra-nodale al capo all'inizio della malattia è molto rara [3]. Tuttavia, i linfomi orbitali rappresentano circa il 5-15% dei linfomi extra-nodali e circa il 50% di tutti i tumori maligni primitivi dell'orbita. D'altro canto, l'incidenza di una recidiva orbitaria isolata rimane sconosciuta data la rarità di questa localizzazione [4]. Ciò che sappiamo è che si verifica di solito nei pazienti anziani, è caratterizzato da una prognosi sfavorevole e finora non ha una terapia standard [5].
Nell'ambito dei nuovi trattamenti, sono attualmente in corso di valutazione diverse molecole in grado di colpire specifici target biologici individuati nei linfomi a cellule B. Tra questi la Lenalidomide, un agente immunomodulatore con effetti sia tumoricidi che immunomodulanti, si è dimostrato particolarmente promettente. I suoi effetti tumoricidi comprendono l'inibizione della formazione di capillari mediata dal fattore di crescita endoteliale vascolare, determinando pertanto l'arresto del ciclo replicativo e la morte programmata delle cellule tumorali [6]. Gli effetti immunomodulatori della Lenalidomide comprendono invece l'inibizione delle citochine pro-infiammatorie come il fattore di necrosi tumorale α, l'aumento della citotossicità delle cellule killer naturali (NK), l'inibizione delle cellule T regolatorie e l'aumento delle citochine anti-infiammatorie [7-9]. L'associazione di Lenalidomide con l'anticorpo monoclonale anti-CD20 Rituximab è stata studiata in diversi studi, mostrando risultati incoraggianti [10,11].
Presentazione del caso
Un paziente maschio di 74 anni giungeva nel 2014 alla nostra osservazione per la comparsa di una placca rossa ulcerata sul braccio sinistro da circa tre mesi. Di recente la lesione aveva iniziato a crescere rapidamente e a sanguinare. Al fine di definirne la natura, veniva eseguita una biopsia escissionale della lesione. L'esame istologico della lesione rivelava infiltrati diffusi di grandi cellule dotate di grandi nuclei e nuclei. La valutazione immunoistochimica rivelava l'espressione da parte delle cellule dei seguenti marcatori CD20 + Bcl6 + MUM1 + CD10- c-Myc- e CD3-. L'indice proliferativo (valutato mediante Ki 67) era del 90%. Questi dati permettevano di porre una diagnosi di Linfoma non-Hodgkin diffuso a grandi cellule B non originario del centro germinativo (DLBCL non GCB). La biopsia del midollo osseo non rivelava infiltrato patologico da parte del linfoma. Al fine di completare la stadiazione veniva eseguita una tomografia ad emissione di fluorodesossiglucosio-positrone (FDG-PET) che mostrava un coinvolgimento diffuso dei linfonodi mediastinici.
In considerazione della diagnosi, dopo attenta valutazione delle condizioni cliniche e delle comorbidità, il paziente veniva avviato a trattamento con Rituximab associato a poli-chemioterapia con doxorubicina liposomiale, ciclofosfamide, vincristina e prednisone (schema R-COMP) per sei cicli, seguito da un ciclo di radioterapia loco-regionale sul braccio interessato. Il paziente tolleva bene la terapia, ottenendo la remissione completa.
Due anni dalla fine della terapia, il paziente giungeva a visita per l'insorgenza di gonfiore all'occhio sinistro, associato ad a esoftalmo e visione offuscata [Figura 1]. Veniva pertanto eseguita una biopsia della lesione che evidenziava la recidiva locale di malattia. La risonanza magnetica (MRI) mostrava un processo ad alta densità a livello dell'orbita sinistra e dei tessuti molli circostanti. Un FDG-PET / Tc permetteva di escluso la presenza di altre localizzazioni di malattia.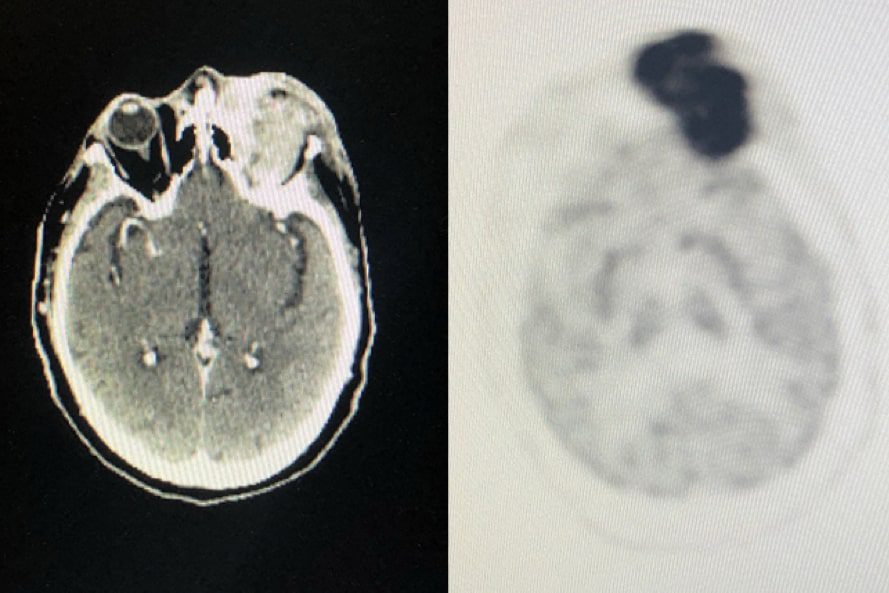 Figura 1. La scansione FDG-PET / CT alla recidiva mostrava un'enorme massa tumorale ad elevata attività metabolico
La biopsia del midollo osseo non veniva eseguita per rifiuto del paziente.
Al momento della ricaduta, il paziente aveva 76 anni ed era considerato non eleggibile ad ulteriore chemioterapia ad alto dosaggio. Inoltre, la radioterapia non veniva considerata per la grande estensione della malattia e per gli effetti collaterali a lungo termine dei raggi sulla vista del paziente. In assenza di un approccio standard per questi pazienti, abbiamo scelto la combinazione di Rituximab (375 mg / mq D1) più Lenalidomide (15 mg D 1-21) ogni 28 giorni per un totale di 6 cicli. Alla fine della terapia, la remissione completa veniva confermata dalla valutazione mediante risonanza magnetica e FDG-PET / CT. [Figura 2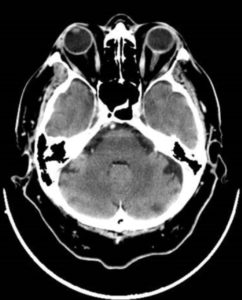 Figura 2. La TAC eseguita dopo la fine della terapia di salvataggio mostrava un quadro di remissione completa
Dopo la remissione, il paziente veniva avviato a terapia di mantenimento con Lenalidomide (15 mg D 1-21, ogni 28 giorni) fino a progressione o tossicità inaccettabile. A 24 mesi dall'inizio della terapia con Lenalidomide, il paziente è ancora in remissione completa con un'eccellente qualità della vita.
Discussione e conclusioni
Il linfoma diffuso a grandi cellule B è il sottotipo più comune di linfoma non Hodgkin, rappresentando circa il 30% dei nuovi casi. Nonostante l'alto tasso di risposta alla chemioterapia standard di prima linea R-CHOP, il 30-40% circa dei pazienti è refrattario al trattamento o recidiva. La chemioterapia ad alte dosi seguita dal trapianto di cellule staminali autologhe è considerata una buona opzione nei pazienti giovani recidivati ​​/ refrattari, con tassi di sopravvivenza globale a 4 anni di circa il 60% [12]. Tuttavia, per i pazienti che non possono beneficiare di una terapia intensiva di salvataggio, compresa la maggior parte degli over 70, la terapia di prima linea rappresenta quasi sempre l'unica possibilità per una cura, specialmente nei sottotipi non GCB [13].
Nel nostro caso, un paziente di 77 anni ha sviluppato una recidiva orbitaria di DLCBL non GCB. La prognosi a lungo e persino a breve termine di questa localizzazione nei pazienti anziani è considerata sfavorevole e ad oggi non è stata individuata una terapia standard per questi pazienti. Il nostro paziente non era idoneo per la chemioterapia ad alte dosi e la radioterapia è stata considerata palliativa. Abbiamo pertanto deciso di utilizzare l'associazione di Lenalidomide e Rituximab come terapia gestibile e ben tollerata [14]. L'efficacia della monoterapia con Lenalidomide è stata studiata nel DLBCL pesantemente pretrattato, con tassi di risposta globale e sopravvivenza libera da malattia migliori rispetto alla chemioterapia intensiva standard [15].
Inoltre, come recentemente osservato in grandi studi multicentrici randomizzati, una tendenza positiva a favore di Lenalidomide più R-CHOP rispetto a R-CHOP da solo è stata osservata nel DLBCL ad alto rischio precedentemente non trattato [16]. Inoltre, questa associazione farmacologica è stata testata anche nei Linfomi non Hodgkin aggressivi refrattari  o in recidiva che coinvolgono il sistema nervoso centrale e il distretto oculare, registrando risultati promettenti [17]. Si noti che l'incidenza di tossicità di grado 3-4 si è vista essere più frequente tra i pazienti trattati con chemioterapia standard rispetto a quelli trattati con Lenalidomide più Rituximab [18], incoraggiando l'uso di questa associazione di farmaci nei pazienti ritenuti inadatti ad un trattamento intensivo.
Infine, la Lenalidomide come terapia di mantenimento, ha significativamente migliorato l'aspettativa di vita dei pazienti con DLBCL rispetto a quanto osservato tra i pazienti trattati con placebo. Il beneficio del mantenimento con Lenalidomide in termini di sopravvivenza libera da malattia è stato altrettanto evidente nei pazienti che hanno raggiunto una remissione completa e in quelli che hanno ottenuto una remissione parziale [19].
Pertanto, il nostro caso clinico dimostra che l'associazione di Lenalidomide più Rituximab potrebbe essere un'opzione valida nel trattamento della recidiva orbitale isolata di DLBCL sistemico non GCB. Questa strategia, migliorata dal seguente trattamento di mantenimento con Lenalidomide, potrebbe essere un'opzione terapeutica efficace e ben tollerata nei pazienti anziani in recidiva ​​o non-rispondenti, ritenuti non eleggibili a chemioterapia di salvataggio intensiva.
Bibliografia
1         Morton LM, Wang SS, Devesa SS, Hartge P, Weisenburger DD, Linet MS. Lymphoma incidence patterns by WHO subtype in the United States, 1992-2001. Blood. 2006 Jan;107(1):265–76.
2         Feugier P, Van Hoof A, Sebban C, Solal-Celigny P, Bouabdallah R, Fermé C, et al. Long-Term Results of the R-CHOP Study in the Treatment of Elderly Patients With Diffuse Large B-Cell Lymphoma: A Study by the Groupe d'Etude des Lymphomes de l'Adulte. J Clin Oncol. 2005 Jun;23(18):4117–26.
3         Newton R, Ferlay J, Beral V, Devesa SS. The epidemiology of non-Hodgkin's lymphoma: comparison of nodal and extra-nodal sites. Int J cancer. 1997 Sep;72(6):923–30.
4         Margo CE, Mulla ZD. Malignant tumors of the orbit. Analysis of the Florida Cancer Registry. Ophthalmology. 1998 Jan;105(1):185–90.
5         Stacy RC, Jakobiec FA, Herwig MC, Schoenfield L, Singh A, Grossniklaus HE. Diffuse Large B-Cell Lymphoma of the Orbit: Clinicopathologic, Immunohistochemical, and Prognostic Features of 20 Cases. Am J Ophthalmol. 2012 Jul;154(1):87-98.e1.
6         Lu L, Payvandi F, Wu L, Zhang L-H, Hariri RJ, Man H-W, et al. The anti-cancer drug lenalidomide inhibits angiogenesis and metastasis via multiple inhibitory effects on endothelial cell function in normoxic and hypoxic conditions. Microvasc Res. 2009 Mar;77(2):78–86.
7         Corral LG, Haslett PA, Muller GW, Chen R, Wong LM, Ocampo CJ, et al. Differential cytokine modulation and T cell activation by two distinct classes of thalidomide analogues that are potent inhibitors of TNF-alpha. J Immunol. 1999 Jul;163(1):380–6.
8         Galustian C, Meyer B, Labarthe M-C, Dredge K, Klaschka D, Henry J, et al. The anti-cancer agents lenalidomide and pomalidomide inhibit the proliferation and function of T regulatory cells. Cancer Immunol Immunother. 2009 Jul;58(7):1033–45.
9         Hsu AK, Quach H, Tai T, Prince HM, Harrison SJ, Trapani JA, et al. The immunostimulatory effect of lenalidomide on NK-cell function is profoundly inhibited by concurrent dexamethasone therapy. Blood. 2011 Feb;117(5):1605–13.
10       Chiappella A, Tucci A, Castellino A, Pavone V, Baldi I, Carella AM, et al. Lenalidomide plus cyclophosphamide, doxorubicin, vincristine, prednisone and rituximab is safe and effective in untreated, elderly patients with diffuse large B-cell lymphoma: a phase I study by the Fondazione Italiana Linfomi. Haematologica. 2013 Nov;98(11):1732–8.
11       Nowakowski GS, LaPlant B, Macon WR, Reeder CB, Foran JM, Nelson GD, et al. Lenalidomide Combined With R-CHOP Overcomes Negative Prognostic Impact of Non–Germinal Center B-Cell Phenotype in Newly Diagnosed Diffuse Large B-Cell Lymphoma: A Phase II Study. J Clin Oncol. 2015 Jan;33(3):251–7.
12       Robinson SP, Boumendil A, Finel H, Blaise D, Poiré X, Nicolas-Virelizier E, et al. Autologous stem cell transplantation for relapsed/refractory diffuse large B-cell lymphoma: efficacy in the rituximab era and comparison to first allogeneic transplants. A report from the EBMT Lymphoma Working Party. Bone Marrow Transplant. 2016 Mar;51(3):365–71.
13       Morrison VA, Hamlin P, Soubeyran P, Stauder R, Wadhwa P, Aapro M, et al. Approach to therapy of diffuse large B-cell lymphoma in the elderly: the International Society of Geriatric Oncology (SIOG) expert position commentary. Ann Oncol. 2015 Jun;26(6):1058–68.
14       Zinzani PL, Pellegrini C, Gandolfi L, Stefoni V, Quirini F, Derenzini E, et al. Combination of Lenalidomide and Rituximab in Elderly Patients With Relapsed or Refractory Diffuse Large B-Cell Lymphoma: A Phase 2 Trial. Clin Lymphoma Myeloma Leuk. 2011 Dec;11(6):462–6.
15       Czuczman MS, Trněný M, Davies A, Rule S, Linton KM, Wagner-Johnston N, et al. A Phase 2/3 Multicenter, Randomized, Open-Label Study to Compare the Efficacy and Safety of Lenalidomide Versus Investigator's Choice in Patients with Relapsed or Refractory Diffuse Large B-Cell Lymphoma. Clin Cancer Res. 2017 Aug;23(15):4127–37.
16       Vitolo U, Witzig TE, Gascoyne RD, Scott DW, Zhang Q, Jurczak W, et al. ROBUST: First report of phase III randomized study of lenalidomide/R-CHOP (R 2-CHOP) vs placebo/R-CHOP in previously untreated ABC-type diffuse large B-cell lymphoma. Hematol Oncol. 2019 Jun;37:36–7.
17       Ghesquieres H, Chevrier M, Laadhari M, Chinot O, Choquet S, Moluçon-Chabrot C, et al. Lenalidomide in combination with intravenous rituximab (REVRI) in relapsed/refractory primary CNS lymphoma or primary intraocular lymphoma: a multicenter prospective 'proof of concept' phase II study of the French Oculo-Cerebral lymphoma (LOC) Network and the Lymphoma Study Association (LYSA)†. Ann Oncol. 2019 Apr;30(4):621–8.
18       Morschhauser F, Fowler NH, Feugier P, Bouabdallah R, Tilly H, Palomba ML, et al. Rituximab plus Lenalidomide in Advanced Untreated Follicular Lymphoma. N Engl J Med. 2018 Sep;379(10):934–47.
19       Thieblemont C, Tilly H, Gomes da Silva M, Casasnovas R-O, Fruchart C, Morschhauser F, et al. Lenalidomide Maintenance Compared With Placebo in Responding Elderly Patients With Diffuse Large B-Cell Lymphoma Treated With First-Line Rituximab Plus Cyclophosphamide, Doxorubicin, Vincristine, and Prednisone. J Clin Oncol. 2017 Aug;35(22):2473–81.
Consenso
Il consenso informato scritto è stato ottenuto da ciascun paziente per la pubblicazione di questo caso clinico e le immagini di accompagnamento.
Conflitto di interessi
Gli autori dichiarano di non avere conflitti di interesse
Ringraziamenti
Gli autori ringraziano Maria Stella Marchetti e L'Arcobaleno della Speranza ONLUS